Well Visit and Vaccine Reminders to School Aged Children Dreaming of a return to in-person schooling for your children or a summer family vacation? Things are looking better for 2021. The rollout of COVID-19 vaccines is encouraging and will save lives. Vaccination has never been more important to protect our families and communities. Now is the time to get your children caught up on routine immunizations they may have missed during the pandemic or are due for this year. It's time to call your pediatrician or family doctor's office to schedule a yearly checkup for your child. In 2020, it was "stay home to stay safe". In 2021, clinics are safe, sanitized and socially distant. Medical offices have taken protective measures to make sure that visits can happen safely, including: Scheduling sick visits and well-child visits during different times of the day Asking patients to remain outside until it's time for their appointment to reduce the number of people in waiting rooms Offering sick visits and well-child visits in different locations A safer return to school means vaccinating your child/children this spring with all recommended vaccines. Preteens especially need to receive their recommended vaccines. Children ages 9-12 are due for four vaccines to protect against diphtheria, HPV-related cancers, meningitis, tetanus, and whooping cough. Call to schedule a well child appointment today. For more information, visit:
https://scdhec.gov/health/child-teen-health/early-childhood-health/how-often-should-my-child-get-routine-checkup

2021 Report to the People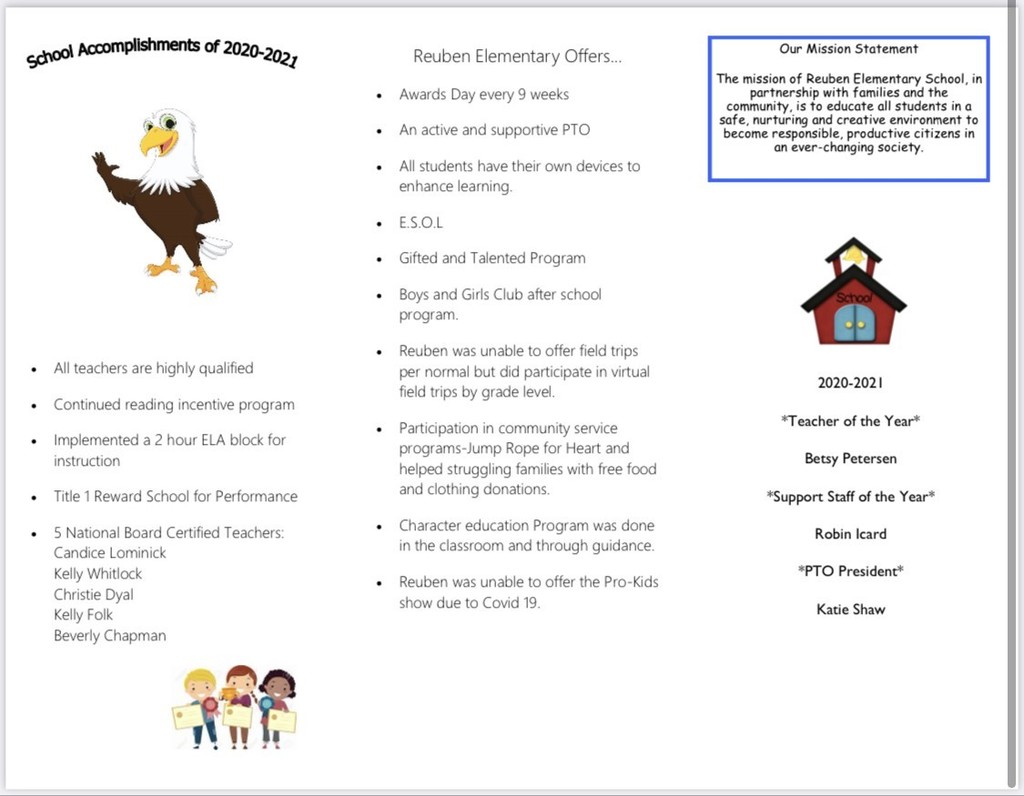 With Governor McMaster's signing into law S.704, all schools will return to 5 days of instruction beginning April 26. For students who are currently face-to-face, Wednesdays will now be an in-person learning day. For students who are currently enrolled in Newberry ONE, Wednesdays will now be synchronous (live) instruction days. This resolution is in place for the remainder of the 2020-2021 school year and for the upcoming 2021-2022 school year. We will continue to keep our current safety measures in place with masks, plexiglass, and social distancing until such a time it is deemed safe to discontinue these practices. Meal Pick-Ups for Virtual Students – students will need to notify the school's cafeteria they plan to pick up meals from by 1:00 pm on Monday, April 26 and schedule a pick-up time for their meals for Wednesday, April 28. We will not be able to accommodate the open pick-up (10:00 am – 12:00 pm) as we have in the past.

Section 59-18-900 of the Education Accountability Act requires that annual school report cards include "evaluations of the school by parents, teachers, and students." Parent perceptions as collected in the Parent Opinion Survey appear on our school report card and provide school staff with insight to issues within our school. Additionally, results from the Parent Opinion Survey are used by the Education Oversight Committee to meet the requirements of Section 59-28-190 of the Parental Involvement in Their Children's Education Act. Although the Parent Opinion Survey has been administered for many years, only parents of students in the highest grade in elementary and middle schools and parents of 11th graders in high schools previously were afforded the opportunity to respond to the paper survey. This year the survey has been moved to an online platform and is accessible via computer and mobile device. All parents of students in grades K-12 may now participate. Before you take the survey, please take a moment and read the letter from the State Superintendent of Education. The letter can be found using these links: (English)
https://tinyurl.com/49wcwd26
(Spanish)
https://tinyurl.com/2s7vhs32
Please complete the Parent Opinion Survey by Friday, May 7. To access the Parent Opinion Survey click on this link:
https://ed.sc.gov/surveys/parent-survey/
Once at the survey, choose either the English or Spanish version of the survey to complete. Families should complete only one survey for each of their children enrolled in public school. Next, enter the seven-digit ID of our school. The ID for our school is 3601015. Before opening the survey, the name of the school will appear, and you will be asked to confirm that you are completing the survey for the correct school. Each school where your children are enrolled will provide you with their school ID. The survey is anonymous, but if you feel uncomfortable in responding to any question you may skip that question. The survey will note that a question has been left unanswered, but you can click continue to proceed without answering the question. Your time and effort in completing this survey is greatly appreciated. Thank you, Mike Stroud Principal

Parents/Guardians: Please call the school (803) 321-2664 to see if Nurse Gena is available prior to coming to bring medication as ONLY A NURSE CAN ACCEPT MEDICATION and we don't want to inconvenience you with having to make two trips. NOTE: THIS ALSO MEANS THAT NO STUDENT CAN BRING MEDICATION IN AS WELL.

Week of the Young Child Info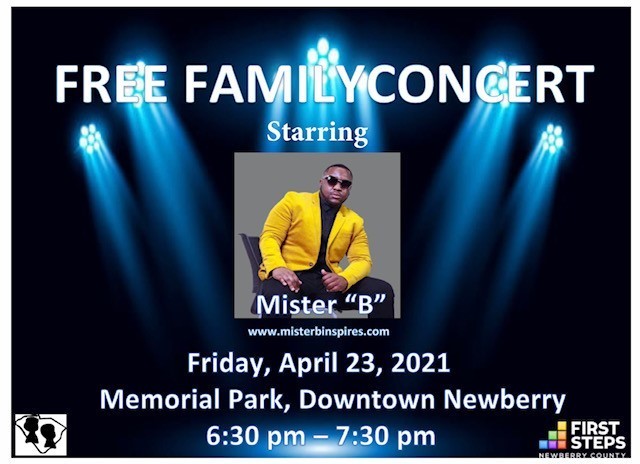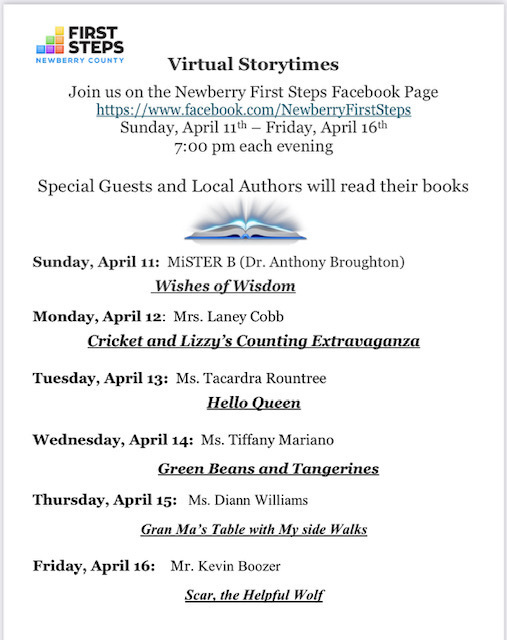 SDNC Announces Additional eLearning Day The School District of Newberry County has partnered with Lovelace Medical Center to administer COVID-19 Vaccines to approximately 371 employees on March 31st. This will be the second dose for these employees. Due to the potential that some employees may experience negative side effects from the second COVID-19 vaccine, the school district will schedule an eLearning day for ALL students on Thursday, April 1, 2021. Teachers will provide asynchronous (not live) virtual assignments to all students, including Newberry ONE, for this day. Assignments will be posted along with the completion due date. The completion of the assignments will be used to determine student attendance for April 1. If parents or students have questions about the assignments, please contact the child's teacher via email or through Schoology.




We need your help getting pics for the yearbook. Please send in pics of students working virtually. Parents --you can go to this link
www.plicbooks.com/go/RwWTv
to upload photos to plic books for our yearbook.

Parents / Guardians: Attached are some myths about the vaccine and covid-19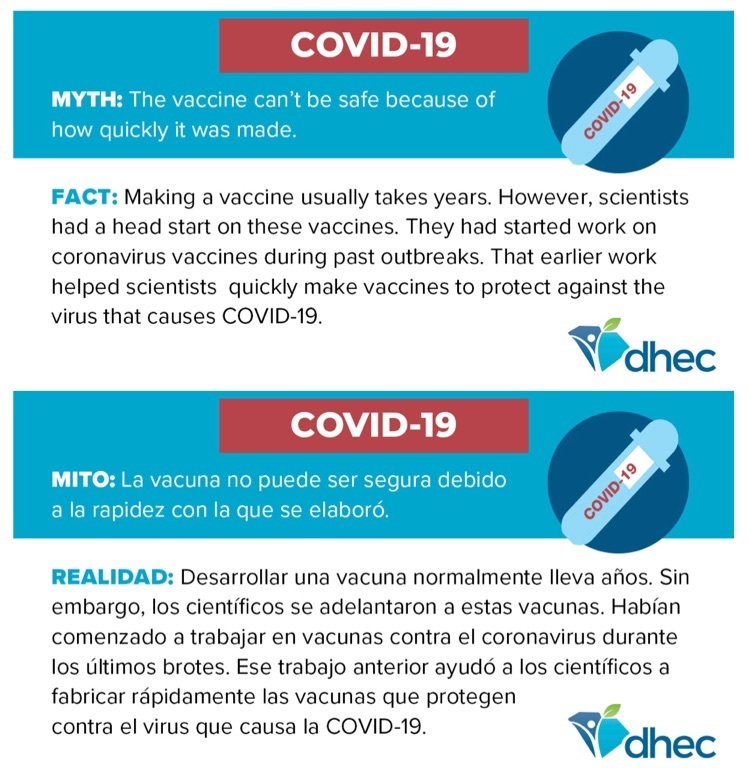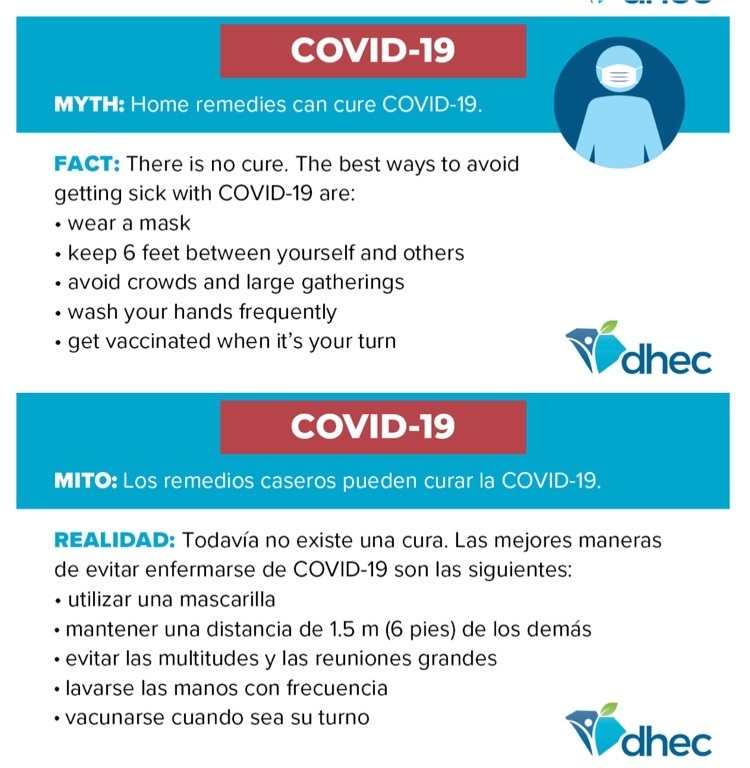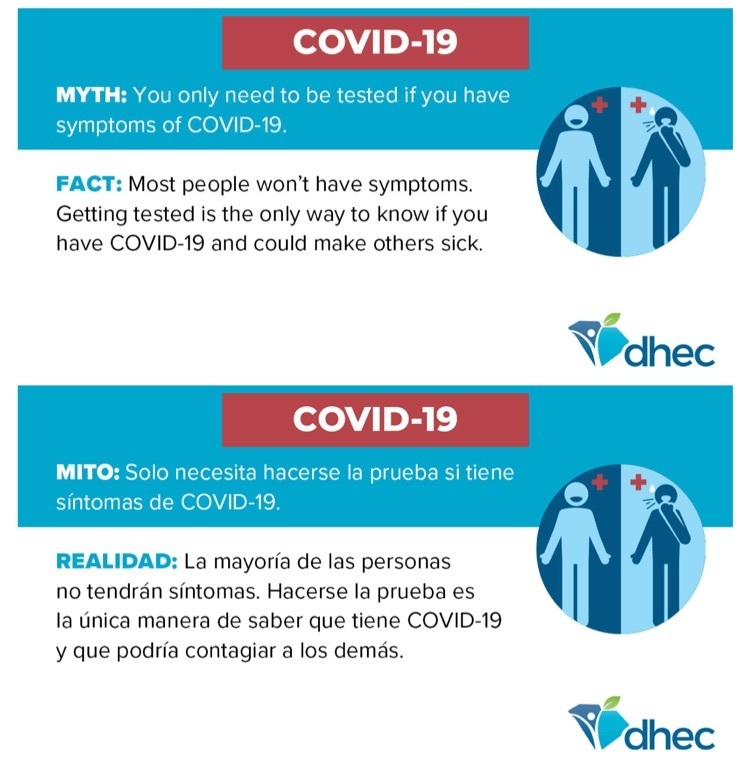 Parents / Guardians: Attached are some myths about the vaccine and covid-19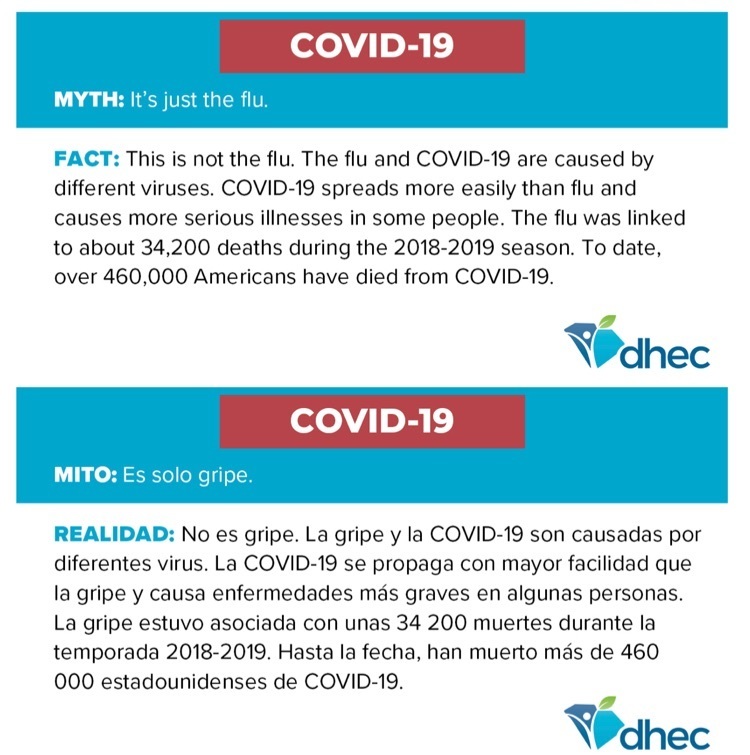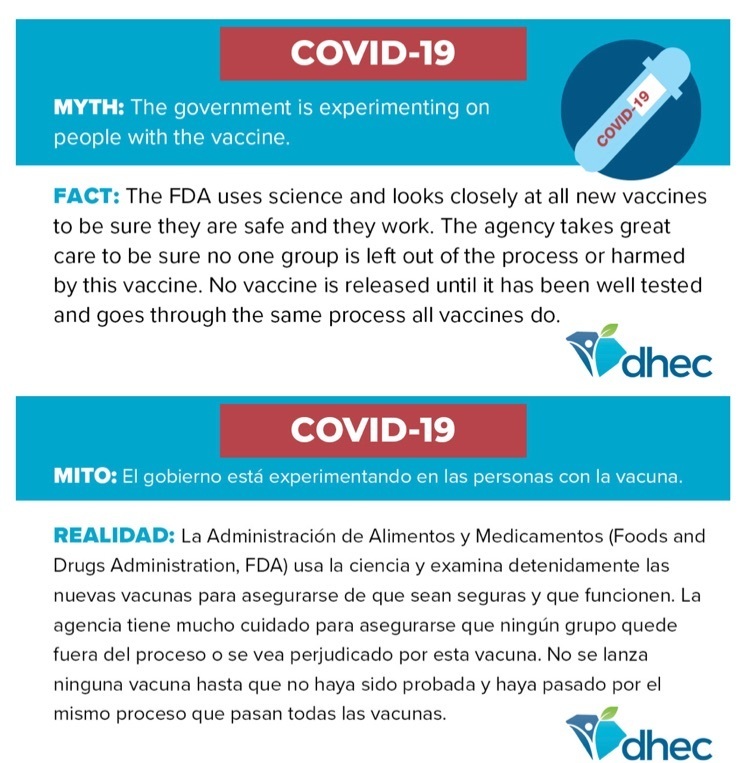 Parents/Guardians: Attached is a FAQ sheet regarding the next round of P-EBT Benefits that will be issued in the very near future.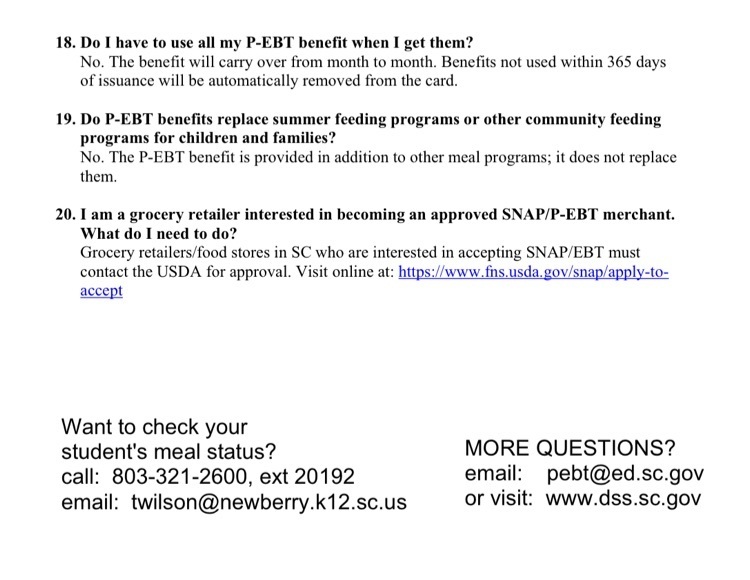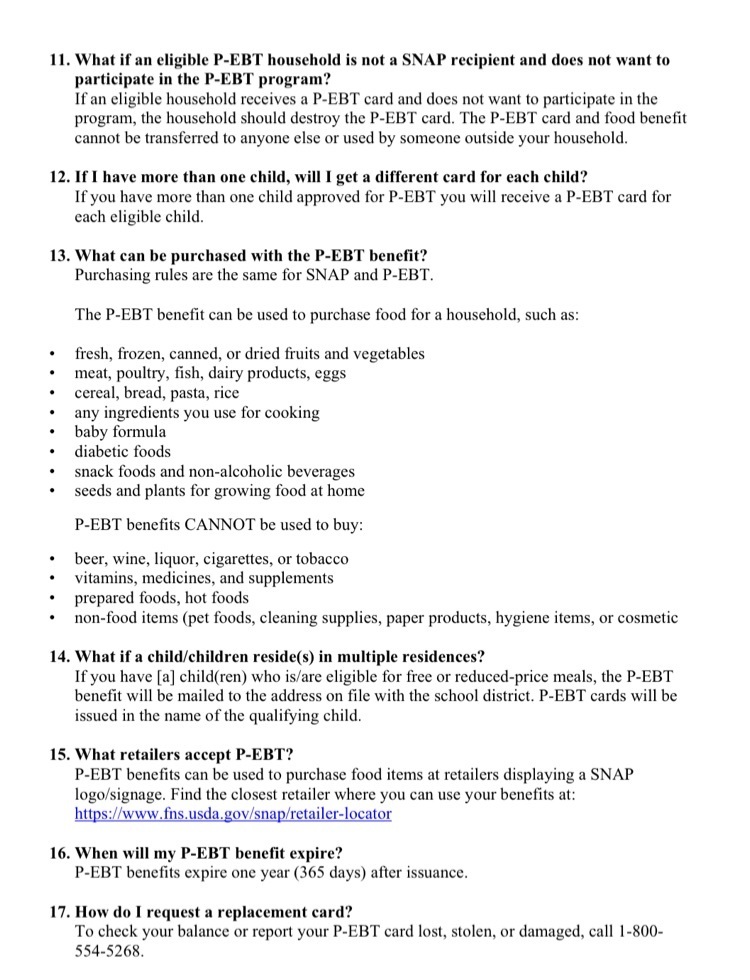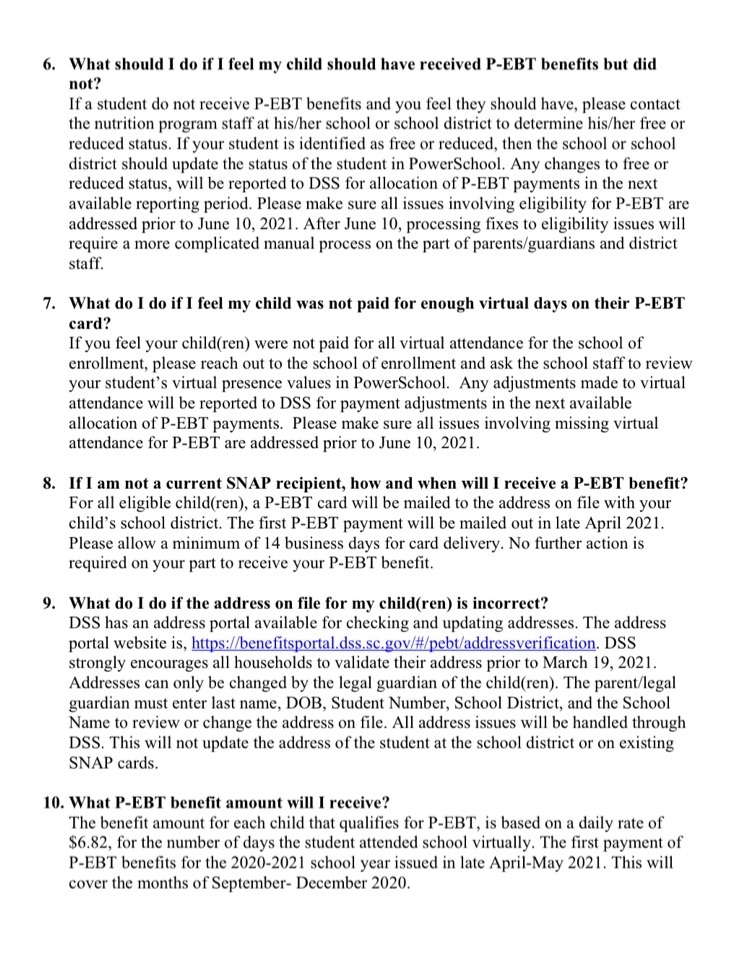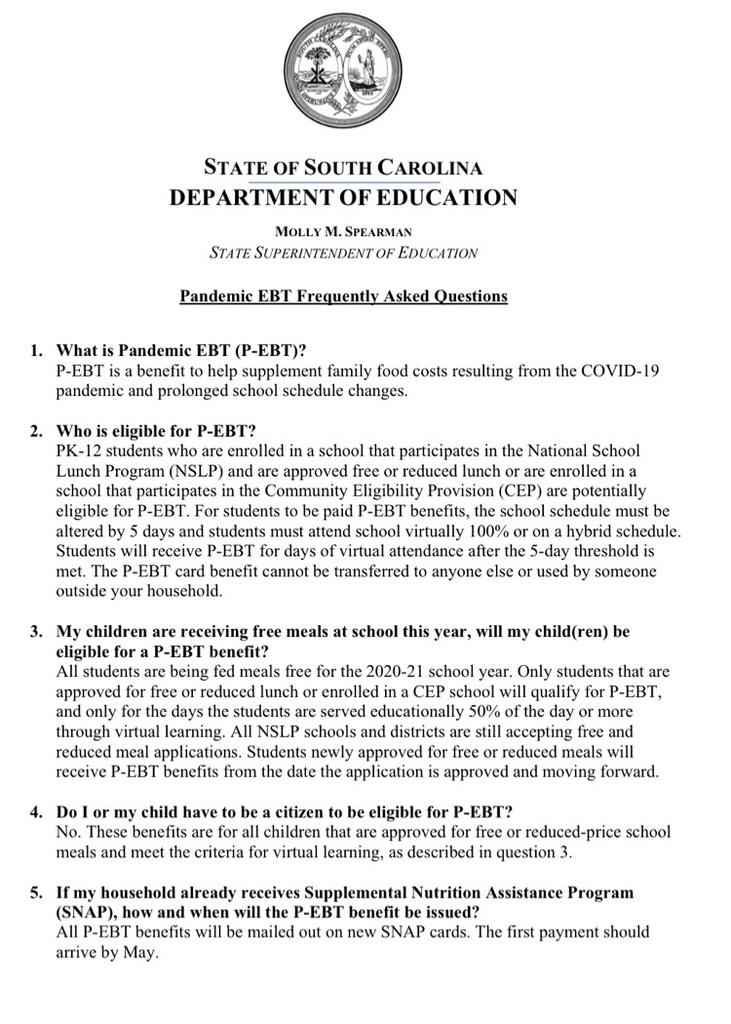 Reuben Elementary: We have a substitute bus driver until further notice. Bus routes may be running behind. Primaria Reuben: Tenemos un conductor de autobús sustituto hasta nuevo aviso. Las rutas de autobús pueden estar atrasadas.

Just a reminder: No school Friday February 12th. It is a Teacher Workday. No school Monday February 15th in observance of the President's Day Holiday.


Please note: Due to CoVid restrictions, we are NOT allowed to exchange Valentine's Day candy or cards this year.

Boys & Girls Clubs of the Midlands is offering full day service at the Lutheran Church of the Redeemer at 1515 Boundary St. on Teacher Workdays. 7:00am-6:30pm. This choice has been added to the parent portal. Begreatacademy.com