A message from Child Nutrition: We appreciate your patience as we continue to improve our distribution of meals. Beginning Monday, Sept 14, hybrid meals will be distributed in bags (see the attached photo). Some schools may still have boxes that they will use until they are depleted. Using the paper bag will make it easier for elementary students to carry. Another round of Farm to Family boxes will be distributed on Sept 21 and 22.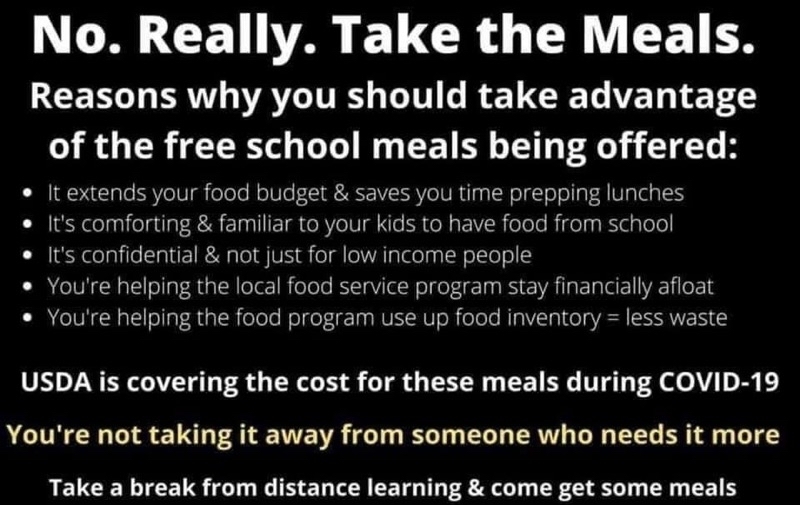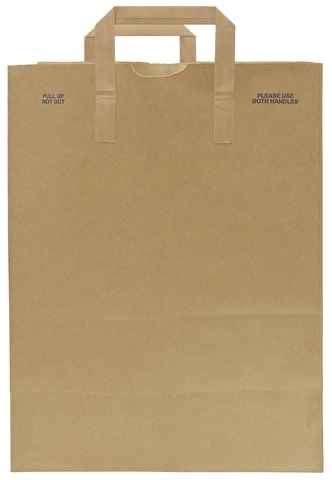 It's Picture Day! Mark your calendars!! Monday September 14 - Group 1 Tuesday September 15 - Group 2 *Pictures for virtual students will be scheduled at a later date. Order forms will be sent home with your student Thursday and Friday of this week. You can choose to pay online or send the payment and order form back to school with your student. Payments are due by the scheduled picture date.

USDA announced its waiver extension of the Seamless Summer Option, which allows schools to offer meals to all children at no charge through December 31, 2020 (dependent on available funding). What does this mean? Effective Tuesday, September 8, 2020, the School District of Newberry will offer all meals to all students at no cost. Elementary schools, which participate in Community Eligibility Provision (CEP), already receive the benefit of meals at no cost and will not be impacted by the change. Middle and High Schools however will notice the difference as they will not be charged for meals (limited to one breakfast and one lunch per day). Middle & High school students participating in the Hybrid Module can pick up meals as they leave school each Monday or Tuesday. If students are participating in after school activities, parents may opt to pick up meals for their student on Wednesday of each week. Newberry One e-Learning students will also continue to pick up meals on Wednesday of each week. Offering meals at no cost will increase participation and it is asked that parents complete an on-line order form or call the schools café to pre-order meals for Wednesday pick up. Details can be found on the Nutrition Department web site at
www.ncsdnutrition.com

September Menus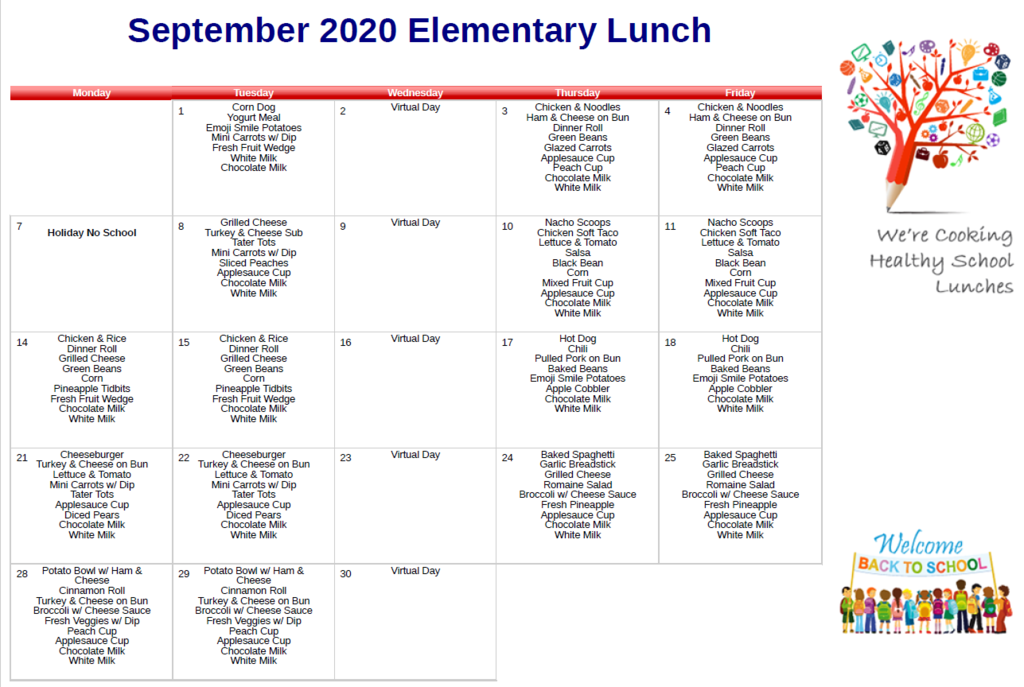 Attention Newberry ONE Parents: Please join us for one of the Newberry ONE information sessions. 9/1- Newberry High School Auditorium @ 5:00 pm 9/2- Whitmire Community School Gymnasium @ 5:30 pm 9/3- Mid-Carolina High School Cafeteria @ 5:00 pm Parents will receive information and will have an opportunity to ask questions about the virtual programs.

Masks with Exhalation Valves or Vents The purpose of masks is to keep respiratory droplets from reaching others to aid with source control. Masks with one-way valves or vents allow exhaled air to be expelled out through holes in the material. This can allow exhaled respiratory droplets to reach others and potentially spread the COVID-19 virus. Therefore, CDC does not recommend using masks if they have an exhalation valve or vent.

Newberry ONE Families - Core classes do not meet virtually on Wednesday, but students will have assignments. Wednesday is a district wide "E-Learning Day". Elementary and middle school Related Arts classes will not be live virtual classes. Students will receive assignments/activities for related arts that they can complete at their leisure on Wednesday or throughout the week when they have their breaks.

Laptop Cases are available for Reuben Students grades 3 - 5. Hybrid students received at school. Virtual students can come by to pick up at school M - F 8:00 - 3:00. REMINDER devices and chargers should be brought to school daily FULLY CHARGED.

Revised Parent Toolkit as of 8/26 Parents/Guardians: Please note the revision regarding masks w/ valves. Please do not send students to school with this type of mask. From CDC: Masks with Exhalation Valves or Vents The purpose of masks is to keep respiratory droplets from reaching others to aid with source control. Masks with one-way valves or vents allow exhaled air to be expelled out through holes in the material. This can allow exhaled respiratory droplets to reach others and potentially spread the COVID-19 virus. Therefore, CDC does not recommend using masks if they have an exhalation valve or vent.


Schools Named to 2020 List of America's Healthiest Schools School honored with national award for implementing best practices in nutrition and physical activity Congratulations on Reuben Elementary having earned the honor of "America's Healthiest Schools" for prioritizing nutrition, regular physical activity, and strong wellness policies! This is the 2nd time Reuben Elementary has received the National Healthy Schools award. Thank you for your incredible work, dedication, and perseverance in pursuit of wellness. Alliance for a Healthier Generation's (Healthier Generation) 2020 list of America's Healthiest Schools" Reuben was evaluated on practices taking place prior to the COVID-19 school closures, they leveraged their strong foundations in wellness and were positioned to prioritize healthy habits throughout the pandemic. "The teachers, parents, students and staff at Reuben Elementary recognize the critical role that health plays in learning," said Mike Stroud, Principal. "We're honored to receive this national recognition for our dedication to supporting the well-being of students and staff, and remain steadfast in our commitment to fostering environments where all members of the school community can succeed." For nearly 15 years, Healthier Generation's annual recognition program has honored schools that are implementing best practices that support children's learning and development, including meeting or exceeding federal standards for nutritious school meals and providing regular opportunities for students and staff to be active throughout the school day. It remains one of the country's longest-running, nationwide recognition programs honoring schools for achievements in nutrition, physical activity and wellness policies. "We commend this cohort of school leaders for prioritizing the essential health needs of students and staff in a time of great challenge and with limited resources at their disposal," said Kathy Higgins, chief executive officer of the Alliance for a Healthier Generation. "Over time, these awardees established strong foundations in health – allowing them to pivot and adapt to meet acute health and wellness needs in a year unlike any other."  As members of Healthier Generation's Healthy Schools Program, Reuben Elementary works to implement wellness policies and practices that meet federal requirements and support a comprehensive approach to kids' health. Any school can join Healthier Generation's Healthy Schools Program to access trainings, resources and technical assistance by visiting HealthierGeneration.org. To view the complete list of America's Healthiest Schools, visit HealthiestSchools.org. About the Alliance for a Healthier Generation The Alliance for a Healthier Generation believes every child deserves a healthy future. For over a decade, Healthier Generation has empowered kids to develop lifelong healthy habits by ensuring the environments that surround them provide and promote good health. Driven by our passion that all young people deserve a chance to live healthier lives, our work, in total, has reached more than 29 million kids across the country. To learn more and help make a difference, visit HealthierGeneration.org and join us on Facebook and Twitter.

Full Day Camp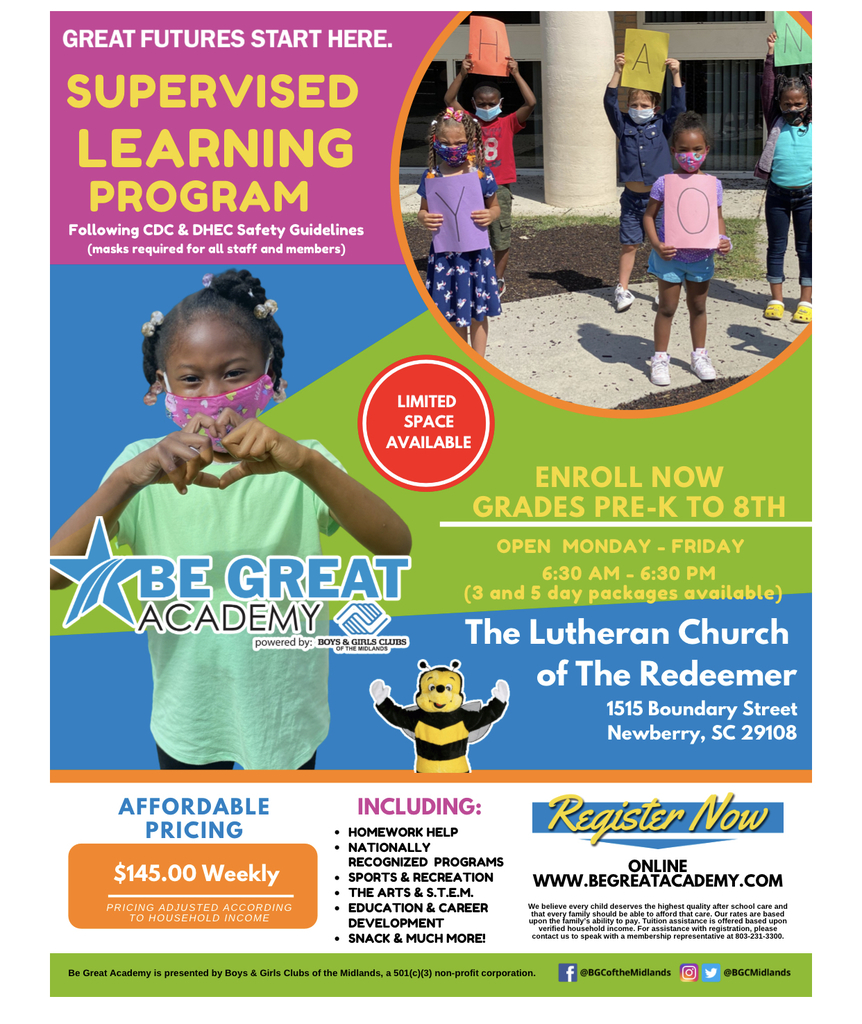 Group 1 Hybrid students: First Day Monday Aug 24 (These students will attend school on Mondays and Thursdays) Group 2 Hybrid students: First Day Tuesday Aug 25 (These students will attend school on Tuesdays and Fridays) AM Dropoff 7:20-7:45 am PM Pickup 2:40 Wear a mask, bring a water bottle, bring your device fully charged and bring your charger and headphones/earbuds Note: All virtual students should have received info via parent/guardian email from their virtual teacher. Log on Monday Aug 24 by 8:30 am for first day and further instructions.


Information for Newberry ONE Families (Virtual): We are so excited for our first official week back to school! While virtual learning is new for us, we are eager to begin and tackle this new venture. Please bear with us, as we are continually learning and updating our systems. Below are a few reminders to help us start our week off: 1. Student schedules can be found in parent/student portal starting today. Please be sure to check your child's schedule. Middle school and high school schedules are still being updated over the weekend, so please check back Monday morning prior to logging on using the link below. If you have a question about your child's log in time, please email the assigned teacher using parent/student portal.
https://sdnc.powerschool.com/public/home.html
2. Schoology is the Learning Management System we are using for our virtual program. Please follow the steps listed below to log in. You will need your student's User Name and Password. The user name is the student's email and the password is the same password used to log on the computer. If you need this information please contact the homeschool or email
khamilton@newberry.k12.sc.us
.
https://core-docs.s3.amazonaws.com/documents/asset/uploaded_file/875659/Schoology_-_Student_Guide.pdf
3. HIGH SCHOOL ONLY- Spanish and Credit recovery will not be live streamed, and will take place at the students' pace. Login information for these courses is being finalized and will be shared later. Please note that these classes will NOT begin on Monday. Your student will be contacted when these classes are ready. 4. Parents will receive access codes for Schoology from their child's teacher(s) once all schedules have been finalized.

Attention Parents of MIDDLE SCHOOL AND HIGH SCHOOL STUDENTS- please pre-order your child's lunches for the upcoming week. There are separate order forms for students who participate in hybrid learning and Newberry ONE eLearning. Information for ordering lunches can be found at
http://newberrysc.apptegy.us/o/sdnc/page/office-of-child-nutrition
All students will continue to receive free breakfast. Lunch charges may apply and parents will need the Student ID# to order.